Upgrade Your Home With A Kitchen Installation
Do you feel that your kitchen is beginning to look a little dated? Whether you are building or upgrading an existing kitchen, EDISS Remodeling can help.
Ediss Remodeling has the perfect recipe for new kitchen installation and kitchen remodeling that turns your tired, old kitchen into your modern, beautiful, and functional dream kitchen. We can build and design high-end gourmet and luxury designer kitchens as well.
We understand that upgrading a kitchen would add more value and properties to your home:
 A new kitchen installation can make it more functional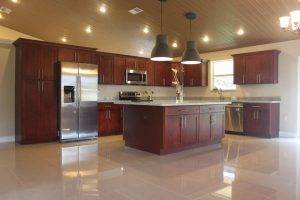 If you have purchased a home that was built 20 years ago, then chances are that the kitchen is outdated. What may have been accommodating the previous owners may be less functional for you. A new kitchen installation gives you the opportunity to make it more functional and appealing for you.
 A new kitchen installation increases the value of any home
Kitchen remodeling can not only add functionality, but it can also increase the value of your home. Functional and attractive kitchens often make a home seem more inviting and friendly and encourages homebuyers to pay the asking price.
A professionally installed kitchen makes the time spent in it more enjoyable
One of the major benefits of remodeling your kitchen is the fact that having a kitchen that is appealing and beautiful to you makes the time you spend for cleaning up and preparing meals more enjoyable.
More space equals to move freely in and bigger cooking area
With a new kitchen installation, you can make a better use of the provided space that was not usable before due to poor design or installation. With the right design or layout for your kitchen remodeling job, you can utilize unused places like walls and corners to store extra things.
You Can Count on Ediss Remodeling Company for Professional Kitchen Remodeling Services
Ediss Remodeling Company - Kitchen Remodeling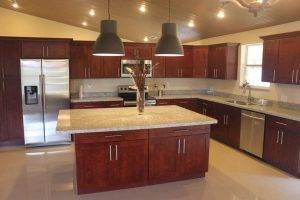 At Ediss Remodeling, we are passionate about kitchens, and it shows with each kitchen we install or remodel. We have been Florida's leading kitchen remodeling contractor for over a decade, and no one makes it more affordable or easier to create your dream kitchen than us. No matter what your budget or personal style may be, we offer choices to fit any kitchen.
At Ediss Remodeling, we design and install kitchens of all sizes. We remodel kitchens designed for family life and entertainment, in condos, and even those kitchens that need to stay on a tight budget.
Our EDISS team members are experienced and highly skilled in construction and construction management. Also, we use high-quality products and building materials, to build with up to code standards. The results? Long-lasting, memorable and well-built kitchens.
Follow us on Facebook.