Home Exterior Remodeling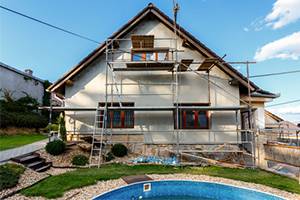 Are you looking for a home exterior remodeling? At Ediss Remodeling Company, we want to make our clients dream home come true. We focus on combining different materials and colors to make your house look like a brand-new home, and more design techniques and construction options for a makeover facade. Our full- service exterior remodeling contractors can often provide you with industry standard services that will entirely revamp and remodel the exterior of your house and make it look greatly like never before.
Why Hire Us?
We have been completing home exterior projects for years. Our proven track record speaks for itself. Our team engages itself in constant research to explore new ways that place Ediss Remodeling on top of its game. We have rendered this kind of service to hundreds of people who are now happy and satisfied clients, and glad they found us. Our team of honest and reliable professionals can render same service to you, just according to what suites you.
We have combined years of expertise and experience that let us stay on top of our game. Your home remodel isn't something you can trust with anyone. Our proven track record of past successful projects can speak for itself, and we would like to be your remodel contractor. Ediss Remodeling Company is here to your rescue to turn your exterior into incredibly great looking house you have always dream of.
Ediss Remodeling proudly and professionally offers the following home exterior services:
Commercial and Residential
 New Construction, Remodel, or Repaint
 Power Washing
 Wood and Iron Stains & Finishes for Decks or Fences
 Stain & Varnish for Cabinetry & Flooring
 Specialty Coatings for Concrete Flooring
 Epoxy Finishes for Tubs or Countertops
Ediss Remodeling Company has garnered over a decade of experience, and that is why our reputation is built based on trust and quality of work. We will take care of shipping and handling of all materials involved in the remodeling work; our customers will only need to settle bills. We will put emphasis on your satisfaction because we want to build a good business relationship with every customer because every client is important to us.
Edis Remodeling Company - Home Exterior Remodeling
Ediss Remodeling can save you huge amount of money as well as time. Our certified bathroom remodel, and designers are highly skillful and always ready to put smile on customers' face like and make them come back again. We understand that your home exterior means a lot to you and that is why our team of professional engineers is here to help you get back on track and experience the difference. Call us today at 954-589-4624