Bathroom Vanity Remodel
Are you searching for a Bathroom Vanity Remodel? Changing the overall look and appeal of your bathroom involves a little bit of effort and planning, but worth it in the end, because it will not only improve the aesthetic of your property but will also increase the total value of your home if you decide to sell in the future. If you are thinking of a bathroom vanity remodel, count on Ediss Construction for your bathroom remodeling needs.
Why Hire Us?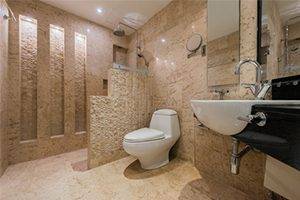 At Ediss Construction, we are committed to providing our clients with the best service and highest quality craftsmanship possible. To provide customized remodeling services, we work directly with each and every customer. We ensure the overall design of the project to be up to your aesthetic standards. If the bathroom project is small or large, we take our remodeling projects very seriously as we understand the importance of your property value in the future. We also like to keep the work environment safe and clean, so your home is kept livable during the remodeling process.
All of Ediss employees are professionally trained, insured, and licensed. We can guarantee professional work ethic and quality service at every step of the project. We pay close attention to any inconveniences arising while performing our job, making sure everything is perfect, so our clients are satisfied with the final job. With our quality remodeling services, we will help you transform your home into a paradise that you can relax, enjoy and love even more!
Our Services
Bathroom Design
Designing an inviting and beautiful bathroom that also satisfies your functional requirements begins with an understanding of your specific needs. Also, your personal style and preferences will come to part when deciding the overall look of your bathroom. At Ediss Construction, we have been creating custom and luxury bathroom designs that satisfy our customers' expectations for many years. Customers all over Florida place their trust in Ediss Construction as their preferred bathroom design specialist and remodeling company.
Bathroom Vanities
Bathroom sink vanities play a significant role in increasing the overall look of your bathroom. Bathroom vanities come in a wide range of beautiful designs, including country style, contemporary, and antique effect. With the help of our experienced remodeling specialists, we can add a more appealing look to your bathroom.
We specialize in the following types of bathroom vanities:
Pedestal Style
Single Bathroom Vanities
Double Bathroom Vanities
Free Standing Vanities
Floating Wall-Mounted Sink
And much more!
Bathroom Cabinets
When it comes to bathroom renovation, cabinets can have the most impact because they set the tone of the whole area. Whether your space is small or big or occasionally used or frequently, we will help you choose a cabinetry style that complements your space.
Ediss Construction - Bathroom Vanity Remodel
Ediss Construction is proud to be a premier bathroom remodeling company in Florida. We will help you choose the best cabinetry from a wide range of our custom bathroom cabinetry selection, and our knowledgeable and professional bathroom designers will help you pick the right solution for your bath storage needs. Call us today for any questions at 954-589-4624